There are today one too many electric vehicle startups in India hoping to ride the wave of electrification that's taking off rather swiftly here, as the country moves closer to its 2030 EV ambition. However, while there are many options, frankly they're not all worth choosing from. But then, a startup as well, Bengaluru-based Ultraviolette differs in many ways.
Not much noise was made in the years leading up to the final production version of its first-ever EV, but now that it's here, it speaks for itself. We had the opportunity to take the Ultraviolette F77 electric motorcycle out for a few laps around a go-kart track and also up the Nandi Hills in Bengaluru. Here's what we found.
Ultraviolette F77 First Ride Review | The best electric bike in India? | TOI Auto
Ultraviolette F77 design and ergonomics
The F77 boasts a very sporty character, not just to look at with full fairing and clip-on handlebars but also through the ergonomics. The riding position is rather committed with the rider leaning forward over the bar and rear-set footpegs. This stance, no doubt, offers better control. Although, it could be a little tiring during street usage. The seat height is an accessible 800 mm.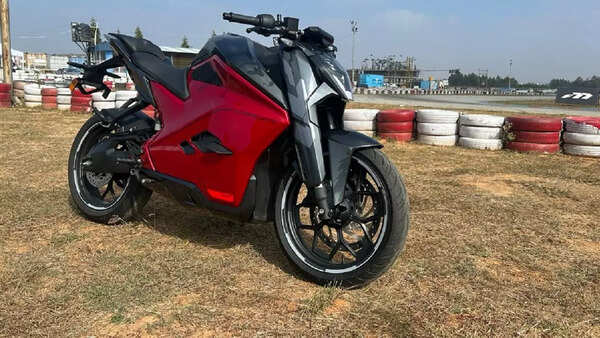 The twist-and-go characteristic of electric two-wheelers needs a little getting used to, especially since there are no controls on the left side of the bike, but Ultraviolette thankfully has the rear brake on the right foot (which helps it remain more a motorcycle than many in the market with a left lever for rear brake).
The bike's been finished well. The paint quality and switchgear have been done properly and do not come across as a half-baked afterthought (which has been the case with several electric bikes available currently). Some plastics could be improved upon but that should be sorted as production gets in full swing. Ultraviolette state that the design picks inspiration from a jet fighter and we would agree to that. In fact, it's a very good-looking and sharp design.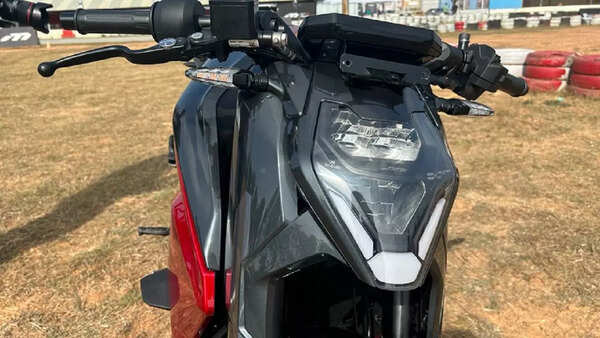 Ultraviolette F77 battery and performance
The F77 boasts the largest battery pack on any electric two-wheeler in India, and so it also claims the largest riding range as well. The Recon variant which we rode gets greater capacity, power figures, and range as well. It is powered by a 10.3 kWh battery pack (7.1 kWh on the standard variant) that helps it deliver 29 kW (38.9 hp) and 95 Nm of torque. The sprint time from 0-60 km/h is only about 3 seconds.
A very impressive aspect of the F77 is the acceleration and throttle response. Instead of a jolt initially, as the throttle is twisted, the power is delivered in a gradual fashion which is very important for a street bike. The throttle calibration has been done right and the regenerative braking is not intrusive at all.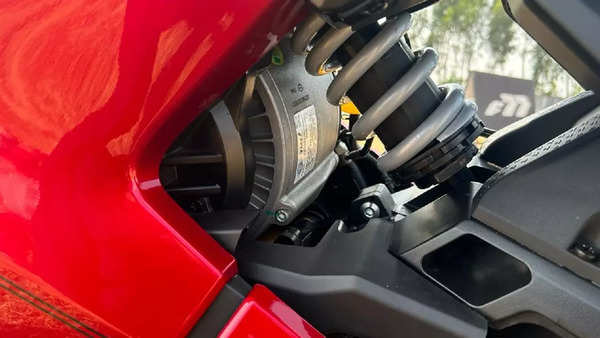 Speaking of a jolt, the Ballistic mode delivers maximum power and is delightfully quick. While the Glide mode is ample for city traffic, the Combat and Ballistic mode are the true appeal of the F77.
The battery pack, as aforementioned, is the largest in India which means it is a hefty component as well. Considering Ultraviolette worked with all that weight to deliver a bike that handles well is impressive. Switching directions from side to side or during hard braking, the presence of that battery weight is substantial but is not a deal-breaker at all. The suspension has been set up firm and the bike's wheelbase is short with a steep(ish) rake angle, which collectively ensures that the weight does not make it lazy. However, the suspension does come across as a tad too firm for street usage. The brakes are as bitey as they need to be.
Ultraviolette say that the F77 can go 307 km on one full charge. This is, however, the figure for ideal conditions. In the real world, a mix of all three modes will be used and different riding styles and charging habits will also contribute to how much range will be delivered. Expect about 260 km from the F77 Recon in the real world and that is a good number to start with.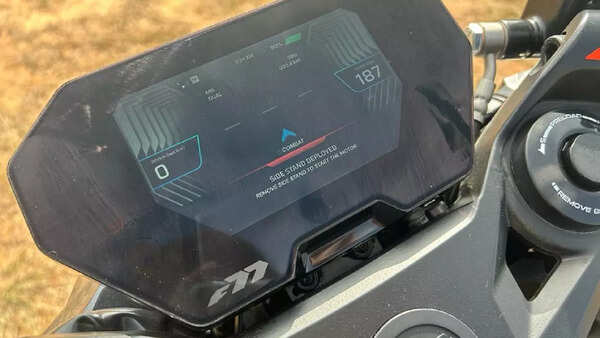 Ultraviolette F77 features
The F77 gets a nice-looking five-inch TFT instrument cluster with smartphone connectivity for navigation, phone controls, and others. It gets a 4G SIM for connected features and will support OTA (over-the-air) updates which we will see roll out eventually. The bike has LED lighting all around. A grab handle (or just a strap) right on the pillion seat would've been welcome but is currently missing.
A very neat feature aboard the F77 is the reverse mode, which is nothing new as almost every electric two-wheeler has it. However, it's not really needed for lightweight two-wheelers. On the F77, which has gained substantial weight since 2019 and now tips the scale at 205 kg, it makes a lot of sense. Pushing the bike out of parking or pushing it backward on an incline is made very easy through the reverse mode.
It promises charging speeds of 35 km per hour on regular charging and 75 km per hour through the 'Boost' charger which is a simple plug and play set up at home. Ultraviolette also offers panniers that can be used to carry the boost charger for short trips.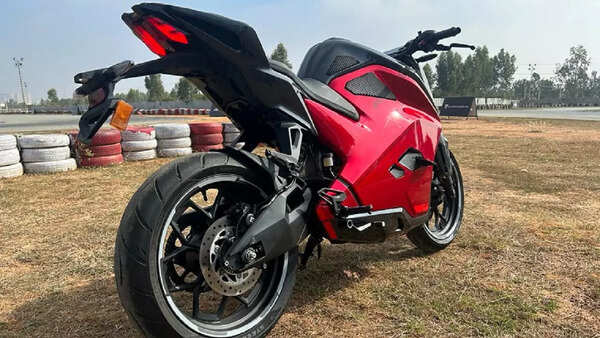 Ultraviolette F77: It's brilliant but does it make sense?
The initial asking price of Rs 3.8 lakh (ex-showroom) for the base model and Rs 4.55 lakh (ex-showroom) for the Recon could be unsettling to some, considering the price tag on a similar petrol-powered machine. But then, it's a thorough assessment that the F77 requires. The running costs will be next to nothing and so, if you're going to keep one for the long term, the asking price will be covered by what you save on petrol.
It is substantially different from a petrol bike and needs a different perspective, along with habits to keep the charge up and healthy. But the great thing is that the range is well above 200 km, which covers city riding and should also cover short weekend trips. Deliveries are set to begin in Bengaluru in a couple of weeks, followed by more cities in the coming months. The F77 is worth the attention because it is unlike any other electric motorcycle in India today.