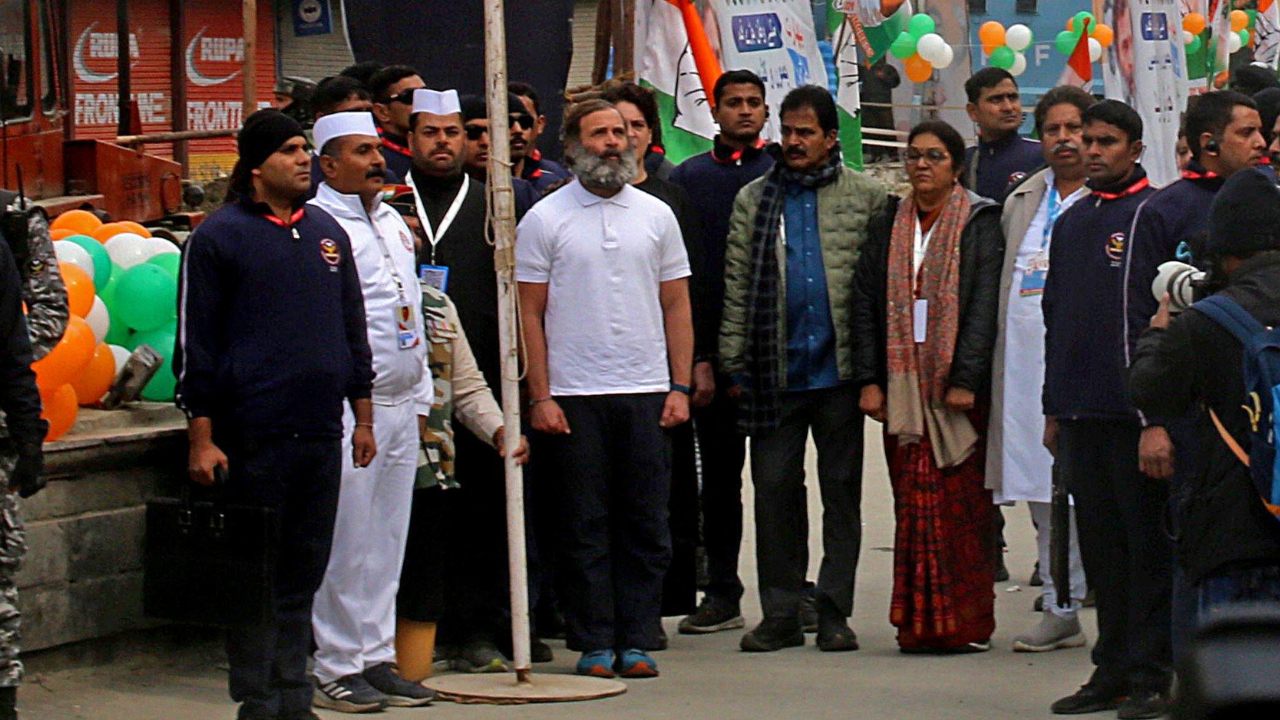 SRINAGAR: After ending his 137-day Bharat Jodo Yatra in Srinagar, Rahul Gandhi challenged Union home minister Amit Shah to undertake a march from Jammu to Kashmir, as he rebuffed BJP's claims of normalcy in the Union territory. Rahul was also bullish on opposition unity and asserted that anti-BJP/RSS parties will fight together.
As the Gandhi scion capped the 4,000-odd km walkathon from Kanyakumari to Kashmir by unfurling the tricolour at Lal Chowk on Sunday, BJP leaders said it could be possible as the region has returned to "normal" under the Modi government. Asked about the claim, Rahul said "targeted killings and bomb blasts are happening here". This appeared to be a reference to security updates provided to Congress while extending phased permissions for the Bharat Jodo Yatra since the march entered the UT on January 21.
"Why don't the BJP people take out a yatra from Jammu to Lal Chowk. If situation is so good, why does not Amit Shah walk from Jammu to Kashmir," he shot back, adding that the claim about normalcy "does not hold".
At a press conference to mark the culmination of the Yatra, Rahul rebuffed the assertion that the opposition was scattered. "The opposition unity comes from talks and after a (joint) vision. There are differences in the opposition, they talk and they will fight together and stand together," he said.
Rahul sought immediate restoration of statehood and resumption of democratic process in J&K, calling it a fundamental issue. He repeated the demand many times as he sidestepped queries on sensitive subjects like Article 370, Gupkar Alliance, Hurriyat and the scrapping of state laws since the abrogation of the special status.
To a query that the promises made by Jawaharlal Nehru after unfurling the national flag at Lal Chowk in 1948 have been broken, he said, "I don't want to comment on the historical aspect of it, I want to look forward."
Explaining the support garnered by Yatra, he said, "BJP and RSS are attacking the institutional framework of this country. Whether it is Parliament, assemblies, judiciary, media. What you have seen in different parts of the country and J&K is the result of that assault on the institutional framework," he said.