MUMBAI: Around 200 students from the premier Tata Institute of Social Sciences (TISS) watched the BBC documentary on Prime Minister Narendra Modi, amidst tight police security and despite multiple warnings from the institute authorities.
While there was no public screening of the movie, students gathered inside the campus managed to watch it on their laptops and cellphones. TISS administration said that no public screening was done and the institute did not provide any facilities for the same.
The movie was screened on nine laptops.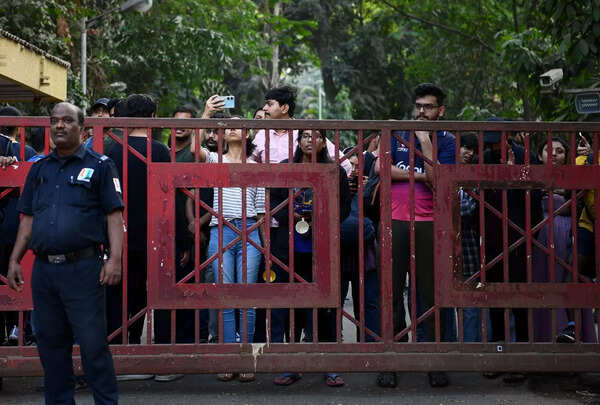 Students of TISS watch BJP Protest inside their campus.
The call to screen the movie on the campus was taken by a student collective, Progressive Students' Forum (PSF), earlier this week. BBC documentary screening: BJP workers protest outside TISS campus in Mumbai
Representatives of the Students' Federation of India (SFI) also supported the call and the official students' body, TISS Students' Union, even shared the QR code of the movie during an impromptu protest gathering called on Friday afternoon. Despite the institute issuing two advisories – one on Friday and the second one on Saturday morning – the students went ahead with their plan. However, after screening, another students' collective on the campus, Democratic Secular Students' Forum, condemned the act of screening the banned movie.
Sairam M, from the forum said, "Despite warning from the institute authorities and in presence of Mumbai Police, the controversial BBC documentary was screened on the campus on laptops and phones. We condemned this screening." Sairam asked the TISS administration to take stringent action against PSF and other students' bodies who extended their support.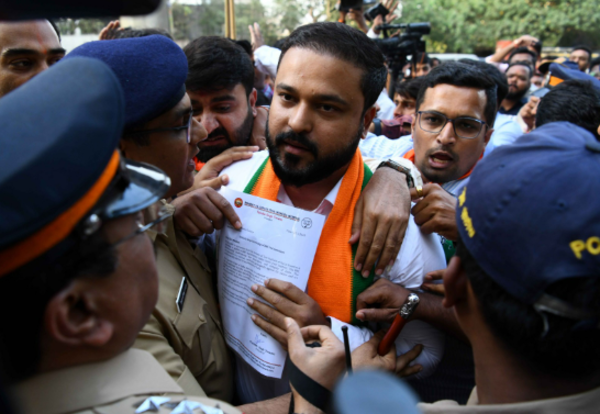 BJP Yuva Morcha protest outside TISS, Mumbai against screening of BBC documentary on PM Narendra Modi. BJYM protests outside TISS in Mumbai where BBC documentary is to be screened
Earlier in the evening, activists from the BJP Yuva Morcha staged a protest against the screening of the movie, outside the campus. The protestors left after assurances from the Mumbai police. Tajinder Singh Tiwana from BJP Yuva Morcha said that an anti-India film is being screened with malafied intention and the institute's administration has not given us any satisfactory assurance. He said they will continue with the protest.
Around 7 pm, however, over 200 students watched the film inside the campus, in the corridors, on their personal laptops and cellphone devices, said a student from the PSF. Earlier when TOI spoke to PSF, the representatives claimed that they were expecting about 50 students for the screening. The movie was screened on nine laptops.
An official from TISS said that it cannot be called a public screening and the institute did not provide any facilities for the same.
Watch Campuses where students tried to screen banned BBC documentary