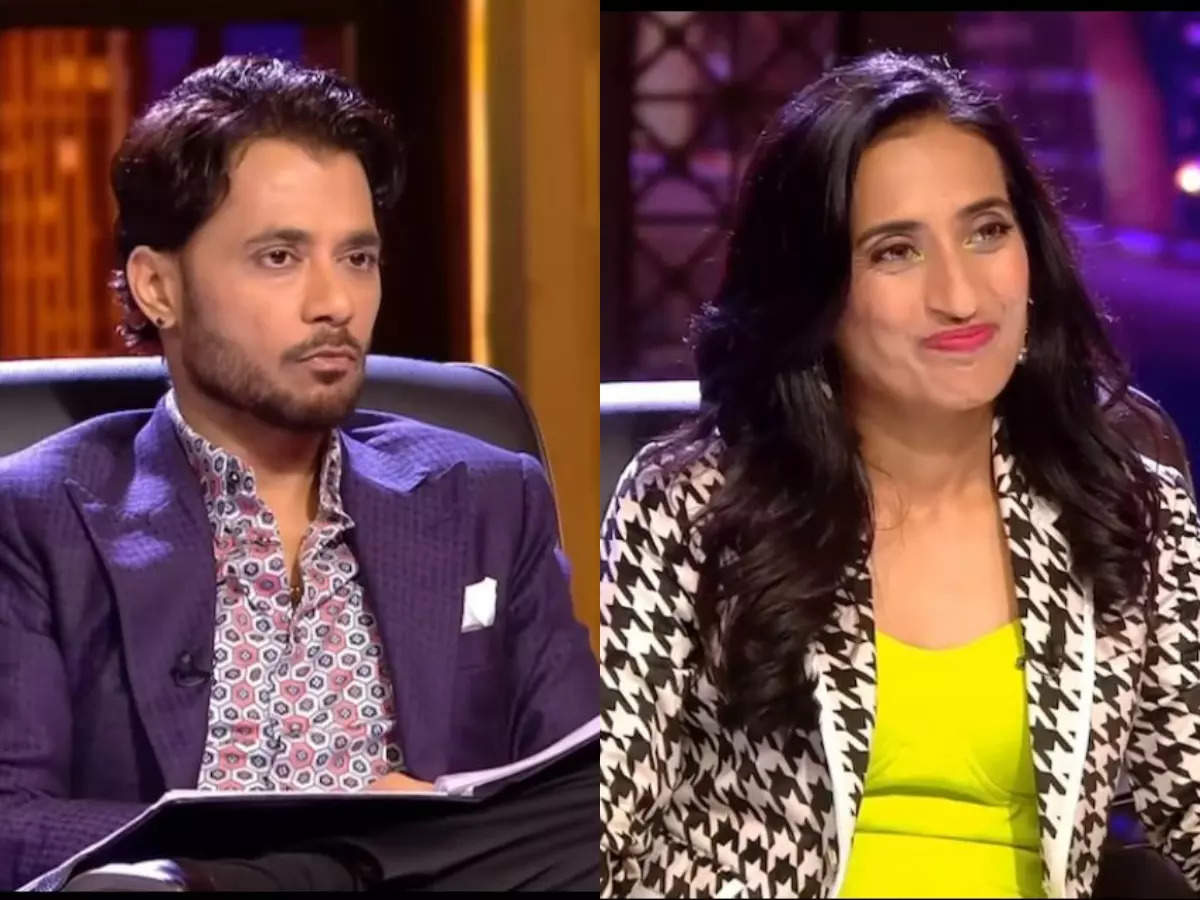 The latest episode of Shark Tank India 2 saw 4 different business pitches out of which 2 of them went without an investment. There was one by LGBTQ pitcher Ashish Chopra, his mother Simmi Nanda and brother Vishesh Chopra that drew the attention of sharks for more reasons than one.
Simmi Nanda told the sharks about her marriage that failed to work. It led her to work on herself and she even did a public speaking course. She shared that it was around 2016 that her son Ashish came back from his college during vacation and while they were having fun, he was asked to perform on a song. She added how he danced to Madhuri Dixit's song.
She said she was quite surprised as his moves were very feminine. It was her sister and niece who told her that Ashish is gay. She revealed she was shell shocked to learn about this and did not talk to him for four months.
However, gradually, her elder son educated her about it. That's when she felt she should support him. She shared that just about then she was asked to give one final speech during her public speaking course and she dedicated it to Ashish. At the event, she hugged him, kissed him and accepted it publicly. Her courage is praised by sharks.
The three then introduced their brand which is a sort of marketplace for different LGBTQ products. They said they have products in different categories and they are all gender fluid to support and promote the community. They explained their business to sharks. But they all opted out as they felt it wasn't an investable business at the moment. Peyush gave them an offer which they declined.
There were also founders of a cheesecake company, Himanshu Gakhreja and Shreya Agarwal, who introduced their brand to sharks. Himashu joked that his wife Shreya was the one who convinced his father to let him pursue his passion. They shared their USP is offering more than 15 varieties of 100 percent eggless cheesecakes.
They claimed to have completed over 2 lakh orders and added they are available both offline and have cloud kitchens. They asked for Rs 1 crore for 2 percent equity. Sharks gave them different deals but Himanshu and Shreya were not convinced and declined the offer that came their way from Aman and Anupam.
There was a business pitch by founders of safe art products, Neha Bajaj and Karen Saldanha. They claimed their products for kids were safe, toxin free, made of organic and natural materials that were also development friendly. The two asked for Rs 50 lakhs and 10 % equity. They explained their business to sharks.
Listening to them, Peyush was unhappy with their sale execution and felt it was too early to invest, Vineeta found them less hungry for sales and Namita questioned their pricing. However, they got two offers from Aman and Anupam. They chose to go with the former.
Another pitch was by founders of a tailoring brand Mahesh Patel, Rudra Pratap and Susmitha Lakkakula. They talked about the difficulties of finding the right tailor for stitching and alteration. They called themselves India's first one stop personalised fashion and tailoring platform for women and shared they have DIY design options as well. They added they provide doorstep delivery within 24 hours to 7 days.They asked for Rs 1 crore for 1.4% equity.
However, the sharks were not convinced. Namita called too much 'khitpit' in their business. Their losses made the rest of the sharks stay away from investing.