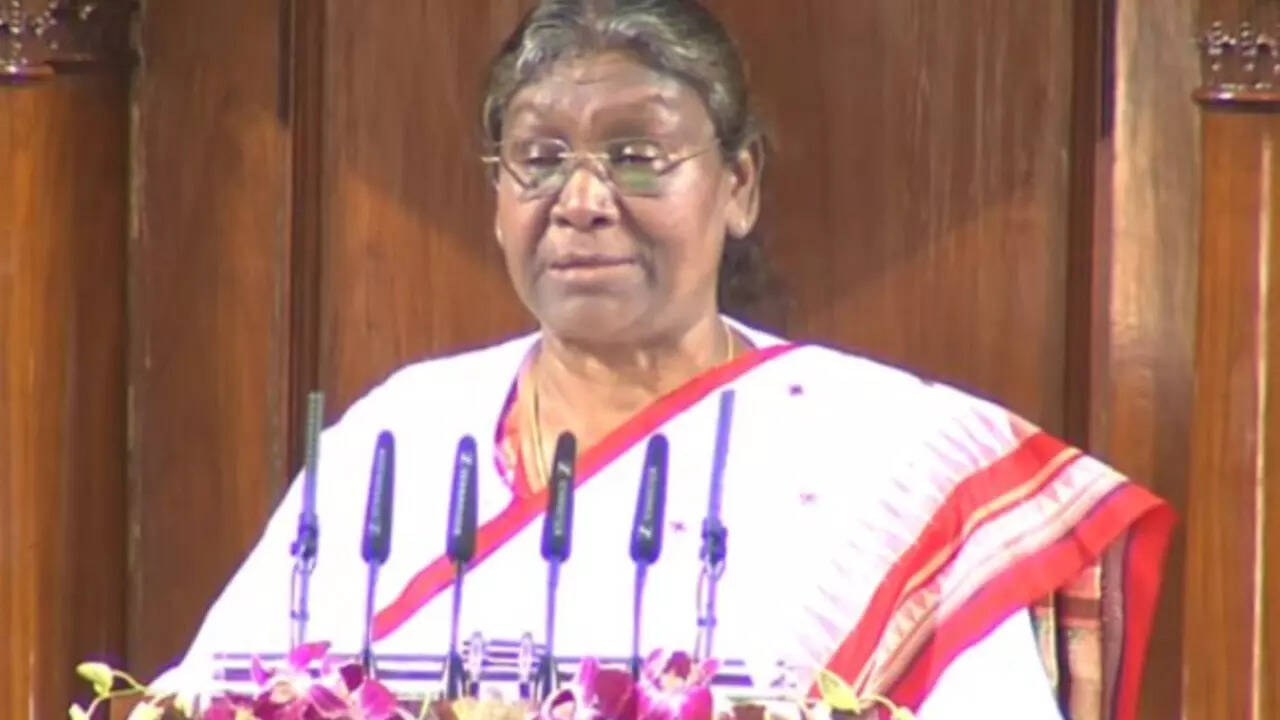 NEW DELHI: President Droupadi Murmu on Tuesday said that we will have to make an India which is self-reliant. She was delivering her first address to the joint sitting of Parliament.
Also See:
Budget Session 2023 Live Updates
"By 2047, we have to build a nation that will be connected to the pride of the past and which will have all the golden chapters of modernity. We have to build an India that will be 'aatmanirbhar' and capable to fulfill its humanitarian duties," President Murmu said.
She said that it will be an India with no poverty and a prosperous middle class and whose youth and women are at the vanguard of guiding the nation, amid thumping of desks by lawmakers at the Central Hall of Parliament.
The President addresses members of both Houses in the Parliament's Central Hall on the first day of the Budget Session every year. The first part of the Budget Session of the Parliament will go on till February 10.
Here are the President's top quotes from her maiden address to the Parliament:
Under the nearly nine years of the Prime Minister Narendra Modi-led government, the country has seen many positive changes. The biggest change is that the self-confidence of every Indian is at its peak and the world has changed the way it looks at India.
While India used to depend on others to solve its problems, it is now working to solve global problems.
People have been given basic amenities missing for decades and modern infrastructure that society long aspired for is being built across the country.
India now has a government which is stable, fearless and decisive and which works to fulfil big dreams. It has a government which respects honesty and works to solve the poor's problems and empower them permanently.
From surgical strikes to the tough crackdown on terrorism, from the LoC to the LAC, from the abrogation of Article 370 to triple talaq, my government has been recognised as a decisive government.
The government has fulfilled the aspirations of the deprived sections of society. It has worked for every class without any discrimination.
The government is of clear opinion that corruption is biggest enemy of democracy and social justice.
Earlier, there was a long wait for tax refund. Today, refund is received within a few days of filing income tax return (ITR).
Priority of the Modi-govt is 11 crore small farmers who were for decades deprived of benefits of the government.
Govt has initiated various schemes for empowerment of women. Today, we are seeing success of 'Beti Bachao, Beti Padhao' campaign. For the first time in India, number of women is more than men.
The government is striving to get rid of every sign of slavery, an example is the change of name from Rajpath to Kartavya Path.