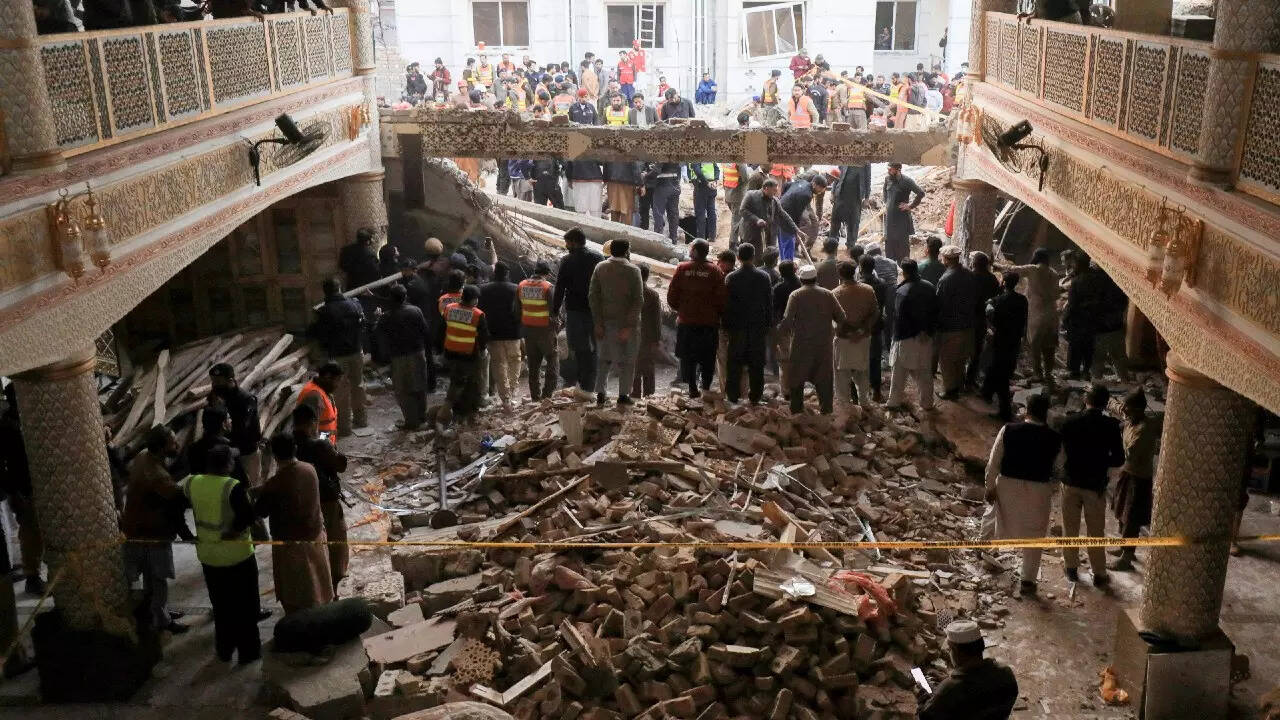 NEW DELHI: The death toll in the suicide bombing in the northwestern Pakistani city of Peshawar rose to 90 after rescue teams retrieved more bodies from the debris, police said.
"Death toll of Peshawar blast has risen to ninety as rescue operation is still under way and debris of mosque is being removed," the state-run Radio Pakistan reported on Tuesday.
The bombing, which happened on Monday during afternoon worship close to areas along the Afghan border, wounded over 150 people
Overnight, at least nine bodies were recovered as rescuers sifted through the rubble of the mosque's collapsed wall and roof.
"This morning we are going to remove the last part of the collapsed roof so we can recover more bodies, but we are not hopeful of reaching any survivors," Bilal Ahmad Faizi, a spokesperson for the rescue organisation 1122, told AFP.
Tehreek-e-Taliban Pakistan (TTP) claimed responsibility for the attack which took place inside the mosque in the high-security Police Lines area.
More than 300 worshippers were praying in the mosque when a bomber set off his explosives vest.
Peshawar, the capital of Khyber Pakhtunkhwa province, is where the
Pakistani Taliban
have strong presence, and the city has been the scene of frequent attacks.
Condemning the attack, Pakistan President Dr Arif Alvi tweeted, "I strongly condemn the heinous & cowardly blast that has taken place in Peshawar mosque. The perpetrators will be found and punished. Condolences to families who have lost an innocent member & prayers for injured. Terrorism must be buried forever."
Pakistan PM
Shehbaz Sharif
said the blast inside the mosque proves that those involved in the attack have "nothing to do with Islam." "These terrorists are trying to instil fear by targeting those who perform the duty of defending Pakistan," he said, assuring the people that the coalition government will take strict action against those involved in the attack.
Ousted Pakistan prime minister and PTI chairman also took to Twitter to condemn the suicide attack.
Strongly condemn the terrorist suicide attack in police lines mosque Peshawar during prayers. My prayers & condolen… https://t.co/LMkgUAD8Rg

— Imran Khan (@ImranKhanPTI) 1675069990000
"Strongly condemn the terrorist suicide attack in police lines mosque Peshawar during prayers. My prayers & condolences go to victims' families. It is imperative we improve our intelligence gathering & properly equip our police forces to combat the growing threat of terrorism," he wrote.
– With agency inputs