NEW DELHI: India is set to host the ODI
World Cup
again later this year and the Indian team is of course a hot favourite for the title. India last won the ODI World Cup title in 2011 at home and since the 2013 Champions Trophy, have not tasted title success in ICC tournaments.
This poor success rate in ICC tournaments has been a thorn in the flesh for the Indian team and was seen as one of the main reasons for
Virat Kohli
quitting the captaincy.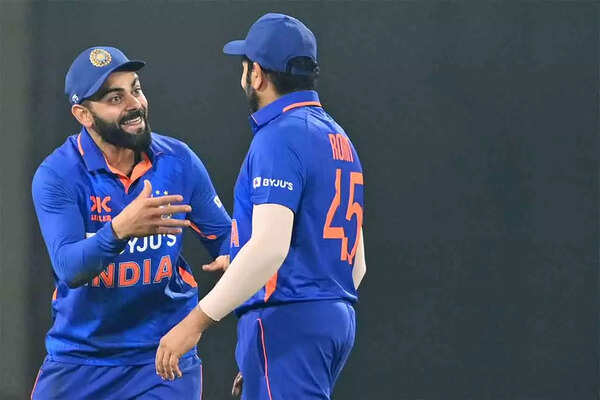 Virat Kohli and Rohit Sharma. (AFP Photo)
Speaking on his YouTube channel, India off-spinner Ravichandran Ashwin asked fans to be patient with Virat Kohli and now captain Rohit Sharma and trust the Indian team management.
Citing the examples of India greats like Sachin Tendulkar and MS Dhoni, Ashwin said, "It is easier to say you haven't won this, that and so on. But after the 1983 World Cup, the great Sachin Tendulkar played the 1992, 1996, 1999, 2003 and 2007 World Cups. But he finally won the World Cup in 2011 only. He had to wait for 6 World Cups to finally win one. That was the situation for a stalwart of Indian cricket. Just because another stalwart in MS Dhoni came and won a World Cup as soon as he took charge, that doesn't mean it will happen for everyone, right?"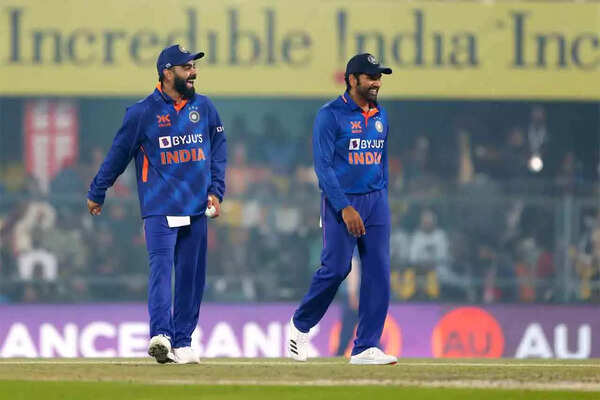 Virat Kohli and Rohit Sharma. (ANI Photo)
Virat was part of the World Cup winning squad in 2011, which Rohit missed. Both played in the 2015 and 2019 editions.
Ashwin, who has played 88 Tests, 113 ODIs and 65 T20Is so far further said – "These players (Virat and Rohit) didn't play in 2007 as well. Rohit Sharma missed out on the 2011 World Cup. Only Virat Kohli played in 2011, 2015 and 2019, and this 2023 World Cup will be his fourth. But people say he hasn't won an ICC tournament. He (Virat) has won ICC tournaments in 2011, and in 2013 when he won the Champions Trophy. Rohit Sharma has also won the Champions Trophy. So, we can give them the space, guys. They are playing bilateral series, IPL and so many other matches. But when it comes to ICC tournaments, you need those crucial moments to go your way."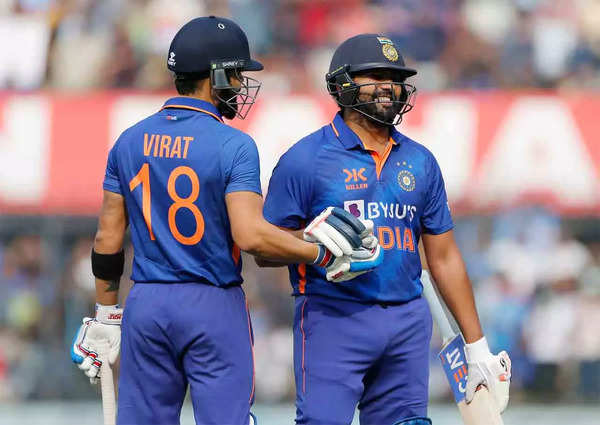 Virat Kohli and Rohit Sharma. (ANI Photo)
Ashwin further asked the selectors to give the extremely talented Shubman Gill a long rope in ODI cricket.
"When we were wondering who will come next once Sachin Tendulkar retired, we got Virat Kohli. So, if you are wondering whether we will ever be able to find someone once Virat Kohli retires, we will surely find one. That could well be Shubman Gill. I am not saying he is THE ONE yet. He could be THE ONE. Ishan Kishan has scored a (ODI) double-century. And the entire world questioned how he can be dropped immediately after scoring a double-century. Yes, I will also feel bad if they drop me after I score a double-century. But Team India has seen Shubman Gill's run in the past. He has been the most consistent batsmen for us over a period of time. He was not there in the squad for the ODI series against Bangladesh. Because he had to play the Test match series against Bangladesh. So, Ishan Kishan got his opportunity in the 3rd ODI and utilized it perfectly. He has been in the reckoning now. Rishabh Pant won't be a part of the Border-Gavaskar Trophy, and so Ishan Kishan has been given a chance in the Test format as well. His opportunities will come. But until then, Gill is here," Ashwin said.
The 2023 ODI World Cup will be held in October-November in India, where the home team will be eyeing their third title. England, who beat New Zealand in a humdinger of a final in 2019 are the defending champions.