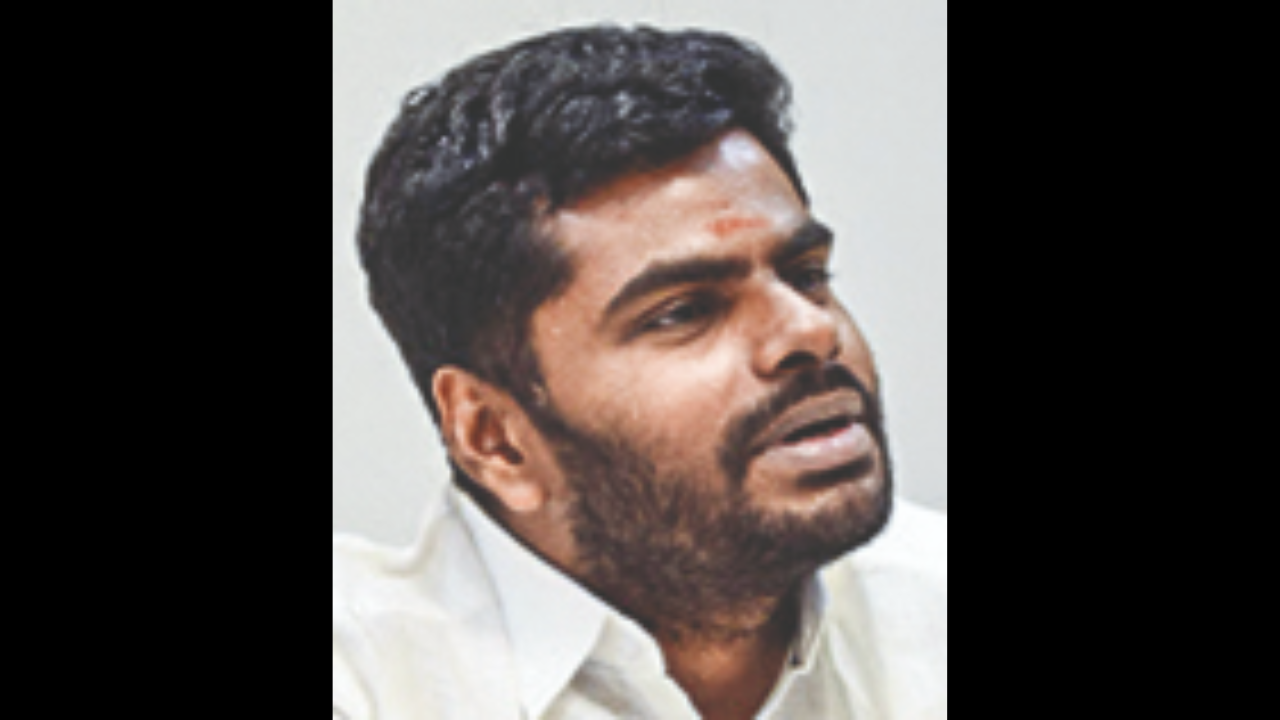 After February 27, nobody will talk about the bypoll, and it is up to the
AIADMK
to put its house in order, says
Tamil Nadu
BJP president K Annamalai in an interview with Jaya Menon.
Will the
BJP
contest in the Erode East bypoll?
That is a decision the party high-command has to make. I have made it clear that we are in a coalition and there is a coalition dharma.
Will you help the EPS group get the two leaves symbol from the Election Commission of India?
It is their internal party issue. The BJP does not have anything to do with it. We stay away from all this.
You said the AIADMK is the bigger party, the stronger party in the alliance
.
That is a fact. The AIADMK is the bigger, stronger party in the alliance. In the current assembly, they have the numbers. I believe in a byelection the best candidate should be fronted and everybody should stand behind that candidate to help them win.
Wouldn't that make EPS the leader of the party too?
I don't know. I can't comment. When a political party makes a decision, you do that based on a larger perspective. You get inputs from all kinds of people. Our BJP unit too will say they want to contest. It's natural. But we have to make a holistic decision that benefits Tamil Nadu. This is a byelection, not a test for BJP. The 2024 Lok Sabha elections are a test for the BJP. After February 27, nobody will talk about this byelection.
Has there been an interven
tion to re-unite the leaders?
Whatever is happening within the AIADMK, it is for the party leaders and cadres to decide. BJP does not interfere. We don't make decisions because we like somebody or don't like somebody.
Do you agree that the NDA in TN is in a shambles?
I won't say that. Different political parties in the NDA are ambitious. I don't see anything wrong in being ambitious. The PMK is not contesting this time. The DMDK is contesting and you had mentioned about the AIADMK too (three factions threatening to contest). But for the 2024 elections, Modiji is the boss. It is his election.
If you help the AIADMK get back its 'two leaves' symbol wouldn't it earn you the goodwill of the party's vote bank and help you deepen your roots in TN?
Every political party has their own growth strategy. You have to grow only by your strengths. I believe we cannot grow by another's weaknesses. The BJP has to find away to grow on its own strengths, not on somebody's weaknesses.
You had placed a demand for 25 (of the 39) Lok Sabha seats to the AIADMK
.
It wasn't a demand. It was a call for action. The party has to be ready for any eventuality. It's a call of action for our cadres that the party should be in a position to win 25 seats on its own and send those MPs to Delhi. Numbers can change depending on the coalition arrangement.
Would you say
Sasikala
is a significant player in Dravidian politics?
In TN politics, you cannot count anybody out. This is because we have seen political leaders hitting rock bottom and bouncing back. Former CM J Jayalalithaa lost her deposit in an election but bounced back. The Tamil audience thinks, reacts differently. So, I don't count anybody out.
How do you assess the performance of this government and chief minister
M K
Stalin?
One-third of its tenure is over… The government's performance is directionless and visionless. They don't look at the larger picture. They still act in opposition mode, criticising the Centre and raking up issues that are not necessary and thinking they can play emotional politics. I doubt Stalin's ministers obey his command.
As a CM, he is trying to behave in a way suited to his position. Of late, with respect to the governor and the PM, he is showing some sense of maturity.
But there is this age-old DMK philosophy that one plays the good cop and the others play the bad cop. We have to wait and see.
Your view on government-governor hostilities
.
The governor is behaving according to his position. It doesn't mean that whatever narrative the DMK is setting against the governor is true. I am not defending the governor; I am going only by facts. His 'Tamil Nadu-Thamizhagam' comment was made at a private function at Raj Bhavan. As BJP state president, I don't accept that suggestion. Both are the same.
The DMK is trying to turn a non-issue into an emotional issue, but it boomeranged on them.
As for the assembly address, when you give obvious lies, how do youexpect the governor to read it? If the term 'Dravidian Model' should be read, I think it should be because it is the government's word.
I disagree. I think it is a wrong word, but it's a government word, a government event. In this case, it is not that the governor did not read it. The problem I was told were the adjectives used before the word (Dravidian model). It was more like political parlance which he avoided.
Did
Rahul Gandhi
's Bharat Jodo Yatra inspire your proposed yatra?
If someone tells me I am taking inspiration from Rahul Gandhi, it will be the last day for me in politics. I will start my 'nadai payanam' in April. It will be the longest in Indian history.
Does your ambition include becoming CM?
My ambition when I quit my job (as IPS officer in the Karnataka cadre) in 2020 as mentioned in my resignation letter was to be a farmer. Now I know for sure I am not a great farmer.
Who do you see sitting in the CM's chair after the 2031 assembly election?
The best person. Let nature find the best person.
Is your Rafale watch a style statement or a political tool?
I don't wear anything for style. I wear things I love. Now it has become a political tool that is not of my making. It is of DMK's making. I can't stop it. I will release the bill and start the padyatra. That day TN will see a huge list of corruption being released.
Will PM Narendra Modi contest in TN for the LS polls?
Every Karyakarta (party cadre) in India wants Modiji to contest in their constituency. That is our wish too. Apart from that, we don't have any plans.