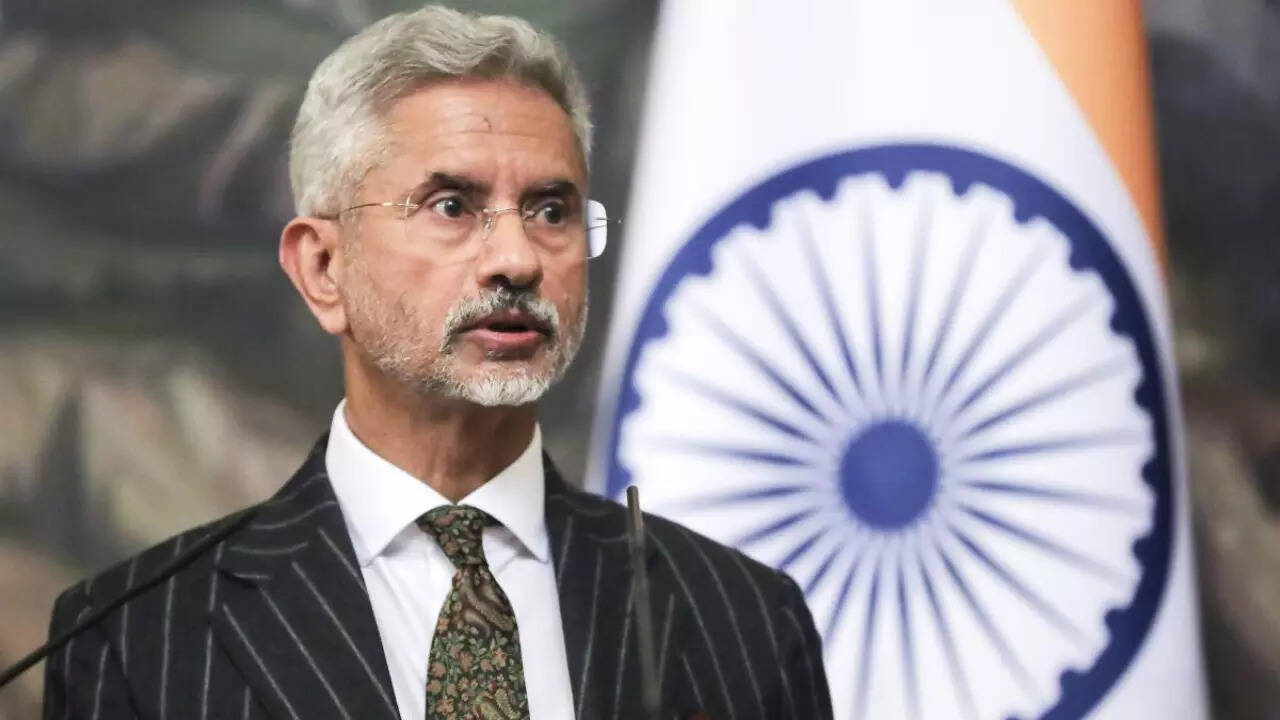 NEW DELHI: External affairs minister S Jaishankar recently took several potshots at the opposition's criticism of the government's international policies and framed many of India's global relationships by citing examples from the epic
Mahabharata
.
Speaking on Saturday while interacting with the audience in Maharashtra's Pune, during a question-answer session at the launch of 'Bharat Marg', the Marathi translation of his book 'The India Way', the minister spoke at length on several issues:
'Land occupied by China in 1962'
Foreign minister S Jaishankar claimed the land that opposition leaders say has been occupied by China "was in fact occupied in 1962".
He also took a swipe at Congress leader Rahul Gandhi, who recently spoke about an official report on loss of territory in Ladakh. "Sometimes they spread news that they know is false. They project as if it happened just now, when it, in fact, happened in 1962… They won't talk about that," he said.
On loss of territory, Rahul Gandhi recently cited a report by a senior police officer in Ladakh that said India has lost access to 26 of 65 patrolling points in Eastern Ladakh. But Jaishankar countered it stating: "If I would need to know something (on China), I won't go to the Chinese ambassador to get inputs, but to my military leadership." Notably, in 2017, when India and China were locked in a standoff on the border area abutting Bhutan, the Congress said Rahul Gandhi had met the ambassadors of the two neighbouring countries.
'Lord Krishna, Hanuman greatest diplomats'
External affairs minister S Jaishankar said Lord Krishna and Lord Hanuman were the greatest diplomats of the world.
"If one looks at them in the perspective of diplomacy, what situation they were in, what mission was given to them, how they had handled the situation … Hanumanji, he had gone ahead of the mission, he had contacted Goddess Sita, burnt Lanka…he was a multi-purpose diplomat," Jaishankar said.
The minister said for the world's 10 big strategic concepts pertaining to international relations in today's discourse, he could give an equivalent for every concept from the epic Mahabharat. "If you say today it is a multi-polar world, at that time what was happening in Kurukshetra (the site of the battle of Mahabharat), that was multi-polar Bharat, where there were different rajya (kingdoms), they were told 'you are with them, you are with me'…a couple of them were non-aligned…like Balram and Rukma."
He said now people say it is a globalised world, there is interdependence, there is constraint. "What was Arjuna's dilemma, it was constraint, that he was emotionally interdependent … that how do I fight against my relatives. That was not material interdependence, but it was emotional interdependence," he said.
"We sometimes say Pakistan did this or that, and we will show strategic patience. The best example of strategic patience is the way Lord Krishna handled Shishupal. He (Lord Krishna) forgave him 100 times," he said.
'Hindu nationalist but no Christian nationalist?'
Jaishankar also reprimanded foreign newspapers for reserving adjectives like "Hindu nationalist" for the Indian government.
"If you read foreign newspapers, they use words like Hindu Nationalist government. In America or Europe, they won't say Christian Nationalist… these adjectives are reserved for us. They don't understand that this country is ready to do more with the world and not less with the world," said Jaishankar.
"If you look at the last 9 years, there is no doubt that our government and politics of the day are more nationalistic…I don't think there is anything to be apologetic about it. The same nationalist people have helped countries abroad and moved forward in disaster situations in other countries," he said.
'Pandavas could not choose relatives, we can't choose our neighbours'
"China is an unusual neighbour. We have many neighbours, but China may become a global power or superpower soon. Living next to a global power has its own challenges," said Jaishankar while lamenting over the geographical limitations of India to choose its neighbours.
"It is a reality to us … Pandavas could not choose relatives, we can't choose our neighbours. Naturally, we hope good sense prevails" said EAM Jaishankar when asked if "rogue nation (Pakistan), which happens to be a nuclear power, will be an asset or a liability."
EAM equates Pakistan, China ties to Karan and Duryodhan
Pakistan has received backlash from the global community for its inefficiency in combatting terrorism, said Jaishankar.
"It needs to mend its ways in order to have other countries aid it in times of distress. Pakistan now has very few allies, out of which Turkey is not in a position to help Pakistan, and China never gives grants but only loans."
Speaking about rules-based order, Jaishankar said: "Karan and Duryodhan are violating rules-based order. Karan and Duryodhan's friendship did not benefit either of them or their families. It didn't make any positive impact on society. Moreover, it devoured their lives and caused massive destruction, irreversible damage and abysmal suffering to their kith and kin."
'No other PM would have made me minister'
Jaishankar also said that no other Prime Minister other than PM Modi would have appointed him as a minister.
"For me to become foreign secretary, was frankly the limit of my ambition, I had never even dreamt of becoming a minister. I am not sure any Prime Minister, other than Narendra Modi would have made me minister," he said.
He also shared his experience of working as a foreign secretary with former foreign minister Sushma Swaraj. "We had a very good minister, Sushma ji and we got along personally very well. I would say our combination was very good, a minister-secretary combination. But, I did learn one thing, there is a difference in responsibilities, there is a difference in the overall sense of being a secretary and a minister."
(With inputs from agencies)