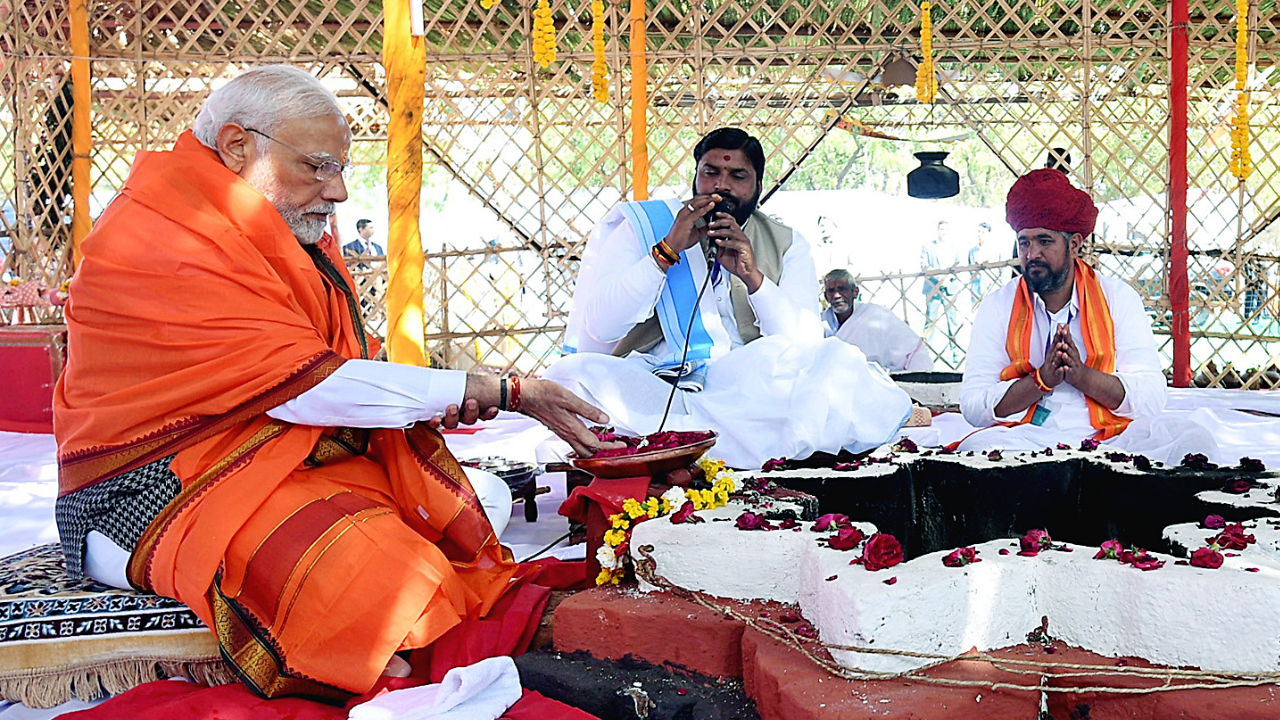 BHILWARA India is a land of opportunities, PM Narendra Modi said Saturday in Rajasthan's Bhilwara district and reassured the state's farmers and the Gujjar community at large of his government's support.
Speaking at a public event organised to mark the 1,111th birth anniversary of Gujjar deity Bhagwan Devnarayan in Malaseri Doongri village near Asind, the PM urged people to stay united and make nation stronger because "the entire world is looking at us with high hopes."
"The manner in which India has shown its might and capabilities to the world has brought pride to this land. India airs its views on the world platform fearlessly and we are reducing our dependence on other nations," he told a large gathering of Gujjar community members from Rajasthan, MP and Gujarat.
The PM said his government's social welfare schemes have empowered the marginalised sections of society, including farmers in Rajasthan who have been given Rs 15,000 crore under the PM Kisan Samman Nidhi Scheme.
The event was designed to strengthen the political outreach of BJP in the Congress-governed state that votes a new assembly later this year. Rajasthan farmers took an active role during the 2020-2021 agitation against three central farm laws, which were later revoked, while Gujjars have been demanding reservation in government jobs and education.
The PM's visit was seen as spadework to build a strong platform for BJP in the Gujjar strongholds after all its eight candidates drawn from the community lost in the 2018 state elections. BJP also suffered defeat in another 15-20 Gujjar-dominated seats.
Modi said: "Lord Devnarayan appeared on a lotus flower and the G-20 mark is also a lotus. BJP's symbol is also a lotus. We have a deep connection with you (Gujjars)."
Recalling the contribution of Gujjars, he said: "The community is known for its valour, bravery, sacrifice and patriotism. Bhop Singh Gujjar's Bijolia Andolan had inspired the freedom movement (against British rule). The contribution of Gujjar women like Rampyari Gurjar and Panna Dhai for the nation and society is praiseworthy.
"The PM called it unfortunate that many heroes did not find appropriate space in Indian history. "Many have never got their due. But India is correcting the mistakes now."
No one from the state government was present at the event, but the absence of BJP's top state functionaries, including former CM Vasundhara Raje, raised eyebrows. State BJP president Satish Poonia was there, though.
State Congress president Govind Dotasra said the PM disappointed the people by not announcing a "single paisa" for Rajasthan.