NEW DELHI: India has started building a strategic road along the Line of Actual Control (LAC) in eastern Ladakh that will, in the most part, trace the Indus and mirror a blacktop surface link on the Chinese side.
The road will plug a vital gap in connectivity between the strategically important Chushul south of Pangong Tso and Demchok in eastern Ladakh, a distance of about 135km along the LAC. It will provide rapid access to the Tibetan refugee settlement of Dungti overlooking ITBP's Hena post, and the advance landing ground at Fukche. Border Roads Organisation kicked off the groundwork on Republic Day and expects to complete the project in two years.
Plans for replacing the present iron bridge across Indus at Loma with a concrete bridge in the vicinity will allow easy movement of heavy military gear to the heart of eastern Ladakh, one of the two areas where the border stand-off is yet to be settled.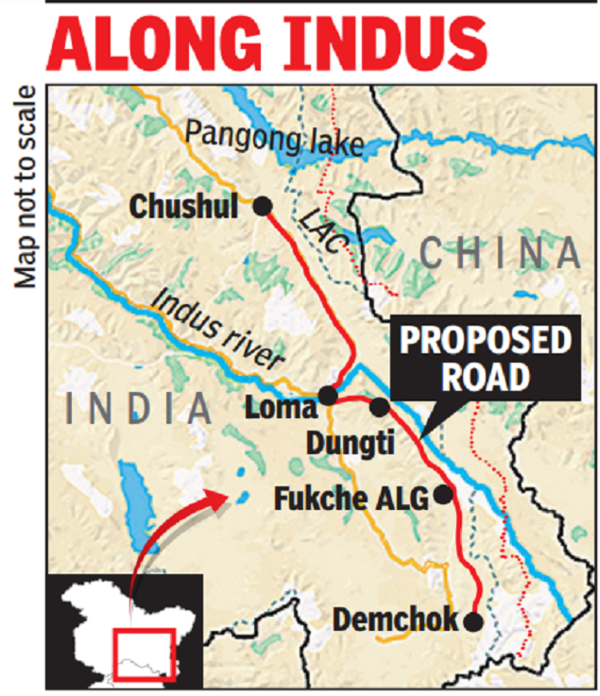 Chushul has three blacktop links to Leh. Two of them converge on Tangtse from where the road goes on to Leh via Chang La (pass). Another road links up with the Nyoma-Leh road in the east at Mahe.
But from Chushul, the road till Loma bridge on Indus is mostly unpaved or eaten up by shifting sand. Across the Loma bridge, it is purely off-road through a vast, empty stretch of gravelly surface interspersed with sandy stretches. The blacktop alternative to Demchok from Loma is through Hanle but it means going across the 19,023-foot-high Umling La after climbing the 18,000-plus foot-high Photi La.
"With the groundbreaking of the strategic 'Chushul-Dungti-Fukche-Demchok' road, we have again moved a step ahead in strengthening our infrastructure along the LAC," Ladakh Autonomous Hill Development Council chairman Tashi Gyaltson said.
Councillor Knochok Stanzin, who represents Chushul constituency in the council, said the project fills a strategic gap in border management, fulfils a long-standing demand of the locals and will be good for tourism. "BRO has to complete the work fast in one or two working seasons. Otherwise, we will be left playing catch-up," he said.
Stanzin's statement is significant as a blacktop road and transmission line is clearly visible across the LAC from ITBP's Tagyarmale post located after Dungti till the Indus vanishes behind a hill a little before Demchok. Stanzin said the road will also prove to be boon for locals and help promote tourism in the area if the forces allowed tourists to venture in these areas.