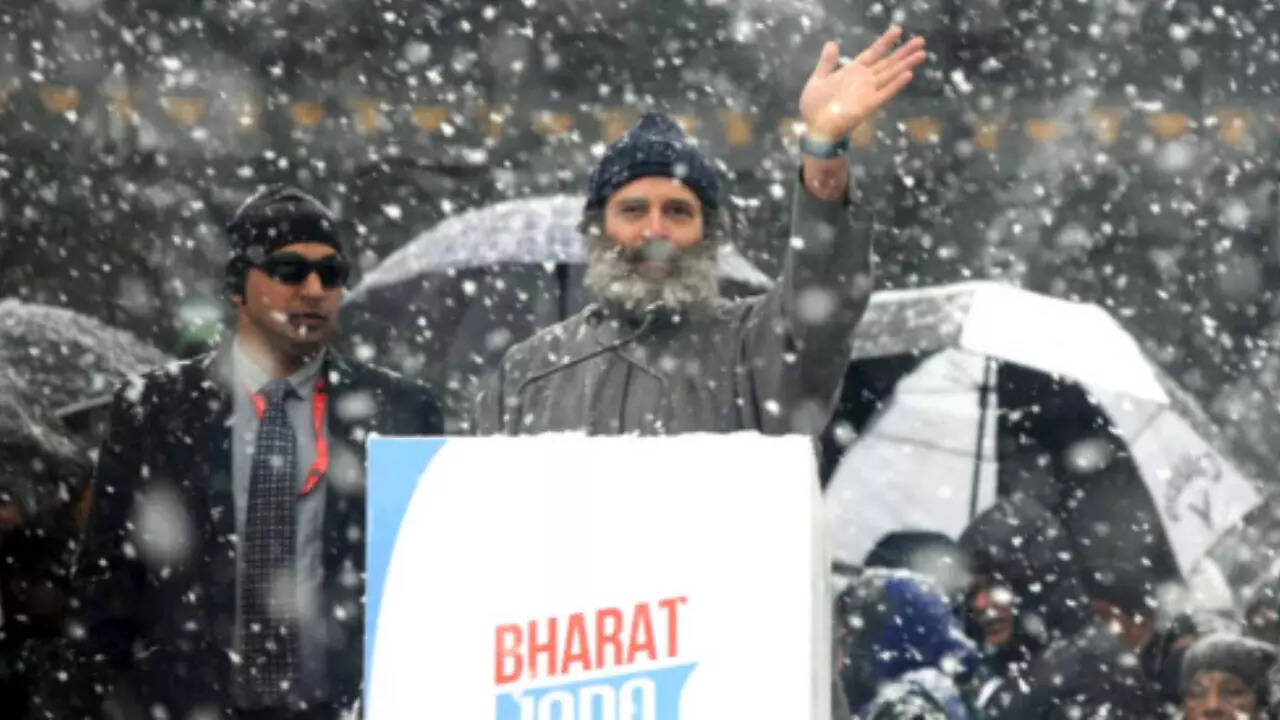 SRINAGAR: Clubbing PM Narendra Modi, home minister
Amit Shah
, NSA Ajit
Doval
and the RSS as "perpetrators of violence",
Rahul Gandhi
on Monday said those who indulge in violence without suffering it personally cannot understand the pain it causes, projecting himself as the person who has witnessed killings in the family and carries the message of peace and amity.
Speaking under heavy snowfall at the culmination rally of Bharat Jodo Yatra attended by some opposition parties, the Congress leader hit an emotional pitch by amplifying the central issue — hatred and violence — of the 4,000-km-long march.
"I understand violence, I have seen it and suffered it. Those who have not seen or suffered it, will not understand it. Like Modi, Shah, RSS, they have not suffered violence… Those who perpetrate violence, like Modi, Shah, Doval, people of RSS, they will not understand pain. We can," he said.
The Congress mascot was specifically addressing the Kashmir, as well as Jammu, constituency which has been the scene of turbulence in the past few years, but it blended with the sharp attacks and appeals he has echoed across 4,000km over four months.
Where it assumed a unique dimension was Rahul's roping in of security forces with the common people of Kashmir as "victims". Hitting an emotive pitch, Rahul recalled the telephone calls he received as a 14-year-old in school and then as a collegiate in the US informing about the assassinations of his grandmother Indira Gandhi and father Rajiv Gandhi. He said the two phone calls were the same dreaded ones that are routinely received by families of people of Kashmir and of security personnel, like those who died in Pulwama attacks.
"The PM will not understand, Amit Shah won't understand, Doval too will not. But the people of Kashmir will understand it, the people of CRPF, BSF and the Army, and their families will understand it," he reiterated. Rahul said his objective is to stop "these phone calls", and "no child or mother or son should have to take these calls".
True to the forecast, it started snowing early morning and intensified through the day, as white Srinagar under two days of security curbs, empty roads and shuttered shops, cut a desolate picture. The weather marred the grand finale that Congress had planned to cap the Yatra, and the turnout was handful. Even some opposition leaders out of the 23 like-minded parties invited, failed to make it, rendering it difficult to figure out those who chose to boycott. But Trinamool Congress and, surprisingly, ally CPM informed Congress that they were skipping the rally, sources said. DMK, JMM, BSP, VCK, CPI, National Conference chief Omar Abdullah, PDP leader Mehbooba Mufti, RSP, IUML spoke at the meeting, besides Congress president Mallikarjun Kharge and Priyanka Gandhi Vadra.
Rahul said the administration asked him to cover the last four days of Yatra in a vehicle, but he insisted on walking. Instead, Rahul said J&K gave him unbridled love and embraced him as their own. He said BJP leaders cannot undertake a similar Yatra in J&K, as they are scared.