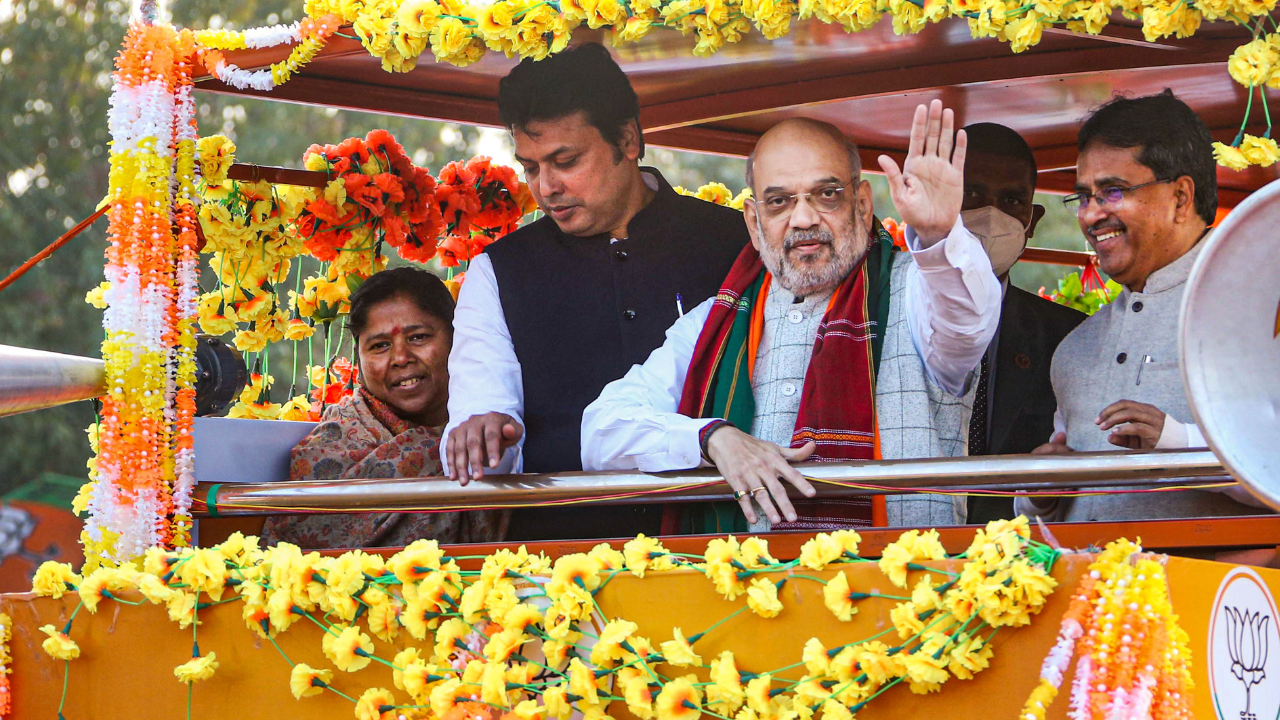 NEW DELHI: Tripura's governing BJP on Saturday named candidates for 48 out of the 60 assembly seats, including junior Union minister Pratima Bhoumik, and decided to retain present ally IPFT that will contest in five of the remaining 12 seats.
The announcement about IPFT, made in Agartala late on Saturday by CM Manik Saha, dealt a blow to TIPRA Motha, the other tribal-based party led by royal scion Pradyot Debbarman. Motha had earlier approached IPFT for a merger. Both parties want a separate state for the native tribes of the state. Nominations for the February 16 polls must be filed by January 30.
"We formed an alliance with IPFT in 2018 through a common minimum programme, won and formed the government. During the five years of the coalition government, IPFT-BJP jointly worked for the development of the people. Therefore, in these five years, it did not raise its voice on the basic demand of IPFT for Tipraland. Hence, once again BJP will contest the polls in alliance with IPFT," the CM said. BJP had won 36 seats and IPFT eight in 2018, ending Left's 25-year reign.
Motha's Debbarma tweeted: "All the IPFT leaders are surprisingly not picking up their calls! Been waiting to hear from them since 11am! Looks like Operation Lotus is on!" Youth IPFT president Shukla Charan Noyatia said the party has agreed to remain in alliance with BJP on " directives of current president Prem Kumar Reang". On a day of fast-moving developments, BJP sources had said in Delhi earlier that there was a deadlock on the number of seats to be shared with Motha. The sources said 53 candidates had been decided initially but the list was pared to 48 after positive feelers from Motha. By evening, CM Saha's announcement suggested the efforts had come to naught.
Union minister Bhoumik – an MP from Tripura – is among 11 women in the list of 48. She has been fielded from Dhanpur. CM Saha has been nominated from Town Bordowali. Several sitting BJP MLAs have been denied tickets, replaced with new and young faces. The candidature of a state minister, Ramprasad Pal, has been put on hold. He had created a ruckus after a meeting of the legislature party last time and had a fight with BJP central observers who had gone from Delhi.
The first list was finalised after a meeting of BJP's central election committee on Friday, which was presided by the party president JP Nadda in presence of PM Narendra Modi and others, including home minister Amit Shah and defence minister Rajnath Singh.
Former CM Biplab Deb has not been renominated, seen as a fait accompli since he is already in the Rajya Sabha and is tipped as one of the likely inclusions in the next Union ministry reshuffle. State BJP chief Rajiv Bhattacharya has replaced Deb as party nominee from Banmalipur constituency.