The
Adani Group
took another blow on Monday, with the stocks rout growing to $66 billion and its bonds sold as the fight with short seller Hindenburg Research escalates.
While the broad selloff continues, with Adani Green Energy Ltd. and Adani Total Gas Ltd. down more than 20% again, there are signs of a divide. Billionaire Gautam Adani's flagship Adani Enterprises Ltd. as well as Adani Ports & Special Economic Zone Ltd. rebounded following a rebuttal of Hindenburg's fraud allegations.
"The initial reaction suggests the market is likely to reward Adani group companies with relatively better visibility of earnings and solid fundamentals such as Adani Ports, Ambuja and ACC," according to Bloomberg Intelligence analyst Nitin Chanduka. "Post the sharp correction, valuations have cooled off and could offer attractive opportunities for long-term investors."
The latest turmoil comes as Adani Enterprises seeks to complete a $2.5 billion share sale, with Hindenburg saying the 413-page refutation fails to answer most of its questions. The saga also threatens to weaken broader confidence in India, until recently a top investment destination for Wall Street, and accelerate a nascent shift toward a reopening China.
Adani Enterprises rose 6.4% to 2,937 rupees ($36) as of 9:50 a.m. in Mumbai, still below the floor price it has set for its follow-on equity sale. The company is seeking to raise Rs 200 billion by selling shares in a price band of Rs 3,112 to Rs 3,276.
"Adani Enterprises and Adani Ports are rebounding because they are the focal point for the group," said Sameer Kalra, founder of Target Investing in Mumbai. "The main recovery in Adani stocks has to first come in these stocks as they are flagship companies."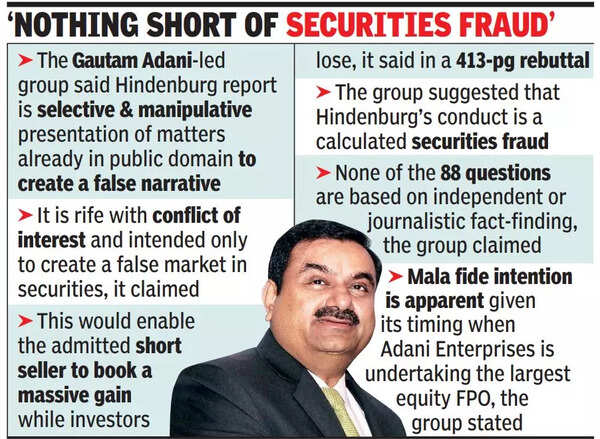 In its rebuttal published on Sunday, Adani said that some 65 of the 88 questions have been addressed in the conglomerate's public disclosures, describing the short seller's conduct as "nothing short of a calculated securities fraud under applicable law." It reiterated it will "exercise our rights to pursue remedies to safeguard our stakeholders before all appropriate authorities."
The lengthy response comes in the last leg of a share offer by Adani Enterprises, which received overall subscriptions of 1% for the institutional and retail portion on Friday. While investors in Indian public offerings typically wait until the last day of the sale to place bids, there were concerns that Hindenburg's attack on the country's richest man would sour sentiment.
In the latest twist, Hindenburg said Adani's rebuttal ignored all its key allegations and was "obfuscated by nationalism." The conglomerate's statement failed to specifically answer 62 of Hindenburg's 88 questions, the short seller said early Monday in India, and conflated the company's "meteoric rise" and the wealth of Asia's richest man "with the success of India itself."