Watching a slew of attendees push their way in to grab a spot at the stage closest to the entry at Lollapalooza India 2023, I was curious about who might the artist be. Aware of the massive fan following of AP Dhillon, it came as no surprise to me that so many would be willing to spend their evening celebrating his presence and music. However, what did manage to catch me unprepared slightly was how dedicated these fans were. Many sat camping with scarves under them and sunglasses shading them, they were all hungry for the closest point to his presence. A few were travelling from Gujarat just to watch an hour of his performance and seemed ready to pour all their energy for their yaar who looked just as happy to see them. No stranger to the dedication of fans thanks to being a part of the K-pop realm, while this was not new, it was unexpected of an Indian audience which easily shifts focus to a different artist. 
AP Dhillon
While I had heard my fair share of 'Brown Munde' and 'Kehndi Hundi Si' at clubs, on top of hit playlists, every dance party's setlist and everywhere else possible, I was not familiar with his other music and as curiosity got the best of me, I found myself drawing closer to the frontal area where all the fun unravelled. 
It was getting closer to his 6:30 pm set on the first day of the music festival and the fans seemed to be throbbing with energy. Soon, the crowd around me was pumped to the highest of tensions and chanted his name at the top of their voices and I obviously joined in. You cannot help but do so, not with the fear of being cast out because everyone around you was riding on the high the evening presented them with and would definitely not care if you were screaming along with them but because it was infectious and exhilarating. My first impression? He was a crowd-puller and a massive one at that, as by now I was one of the tens of thousands of others who were waiting for a glimpse. With every system check, the fans screamed louder and got more impatient and even as it was five minutes past his set time, AP Dhillon kept himself well hidden in the shadows. 
AP Dhillon's entry at Lollapalooza India
Finally, a tune started playing and the crowd seemed more ready than ever to witness the performer. They screamed out the names of his various tracks, verbally betting on which one he would open the show with until the screen went dark and bright lights gave way for a song I later learned was called 'SPACESHIP'. Rapper Shinda Kahlon made his presence on the number and on the stage known with his own daunting presence but the star of the night was asking for more. And the crowd happily obliged screaming out the lyrics to his tracks and dancing like there was no tomorrow. A few songs in, the singer complained of a bad throat, but his energy did not tank as he continued to wow the audience.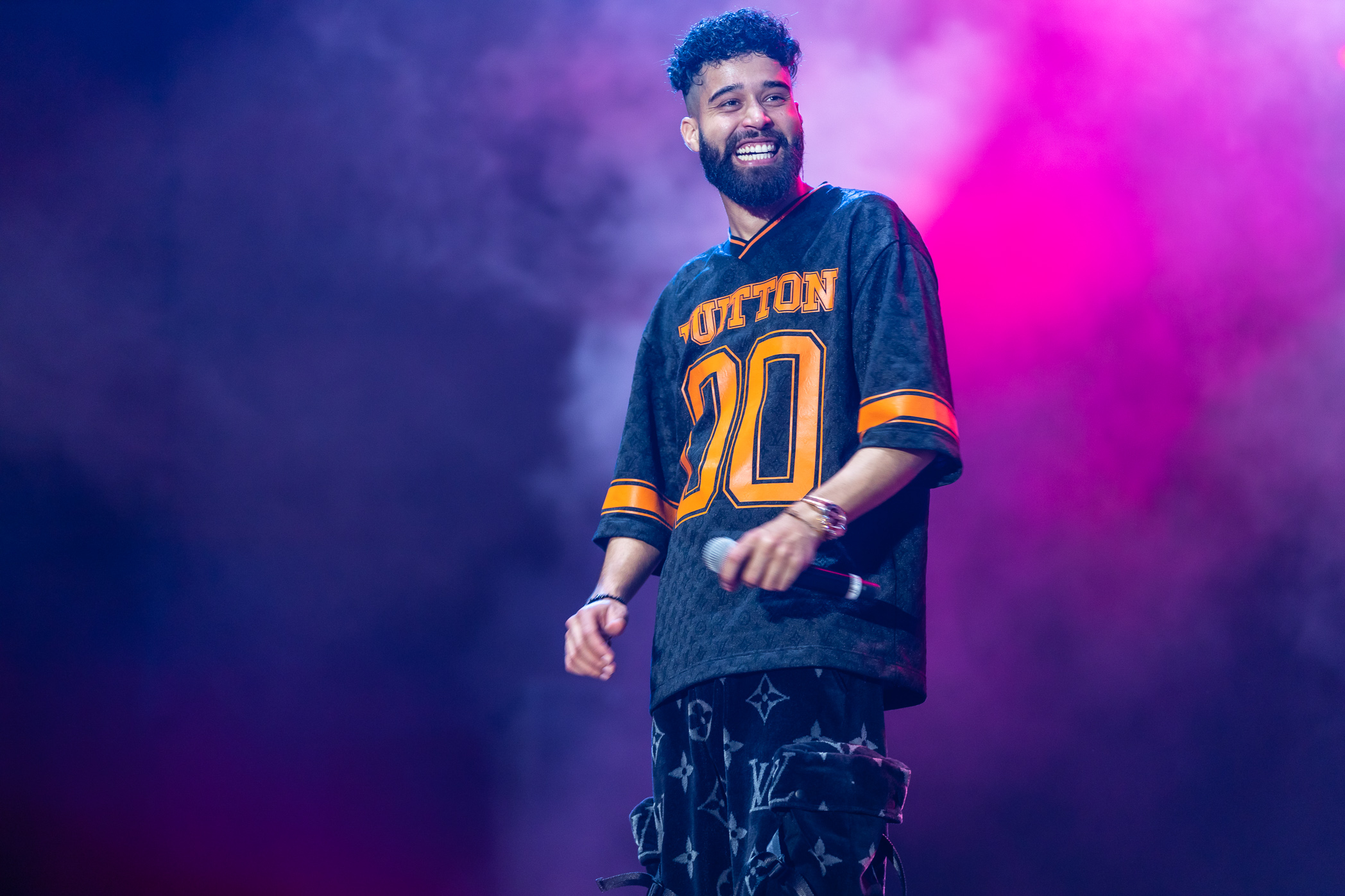 The fans in attendance for AP Dhillon's show belted out the lyrics to all his songs and were dancing with all their might up until the singer himself held a ukelele and sang 'Tere Te' from his album 'Hidden Gems' (which also I learned about later on), and the fans swooned over his voice, the dimmed atmosphere which seemed to have created a romantic and heartwarming vibe. Soon, he hyped them up and was grinning ear to ear as he flung the instrument at the crowd with joy dripping from his eyes. It made me do a double take and admit, "AP Dhillon's adorable." and the young guys in front of me seemed to agree wholeheartedly. He sang 'Summer High' and 'Excuses' among his other fan favourites, pumping up the energy with each smile of his, making sure that the night was his and his only. 
The aftermath of AP Dhillon's show
Not a usual listener of Punjabi music I found myself bopping along to most of his tracks as I stared at his massively beloved face as he jumped around the stage, working up the crowd to make up for his hurting voice. Dressed in Louis Vuitton from head to toe, he flexed his crowd favourite status like a proud badge as most eyes in the ground steered to him.
As his set came to an end with most popular songs out of the way and a banger for the end, I found myself cheering along with the rest of some 40, 000 around (as AP Dhillon said himself) and grooving to the beats of his catchy tracks. I came with no knowledge of his music and returned excited to listen to more. 
From being a non-fan, I had turned myself into an admirer, which seemed to be the whole point of his show. And if all goes well, Brown Munde (even though I'm a mundi technically) would have a new addition soon.
Stay updated with the latest Hallyu news on: Instagram, YouTube, Twitter, Facebook and Snapchat
ALSO READ: GOT7's Jackon Wang performs in India for the first time at Lollapalooza India; Dances to 100 Ways and more